If you need help with using Cysgliad, read through the frequently asked questions below and our responses to them.
Frequently Asked Questions
If that doesn't solve your problem, contact us via the help interface by clicking on the speech bubble in the lower right corner of the screen.
How to fix Cysgliad icons in Word
Cysill and Cysgeir icons can disappear from Word when the Cysgliad Toolbar does not appear within Microsoft Word. If the Cysgliad Toolbar does not appear in Word or Outlook under the Review tab, there are some things you can do before contacting us.
The first thing to do is to open Settings (Windows 10 – Apps & Features) on your computer (Windows 7 – Control Panel – Programs and Features) and make sure that Cysgliad and Cysgliad within Microsoft Office have u install, as in the image below: –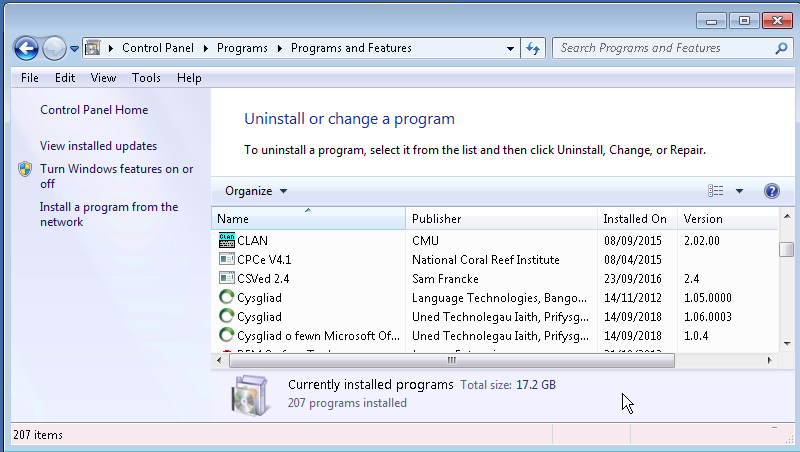 If Cysgliad and Cysgliad are within Microsoft Office, then that means both packages are installed. The next step is to open Word and click on File, followed by Options. You should then see: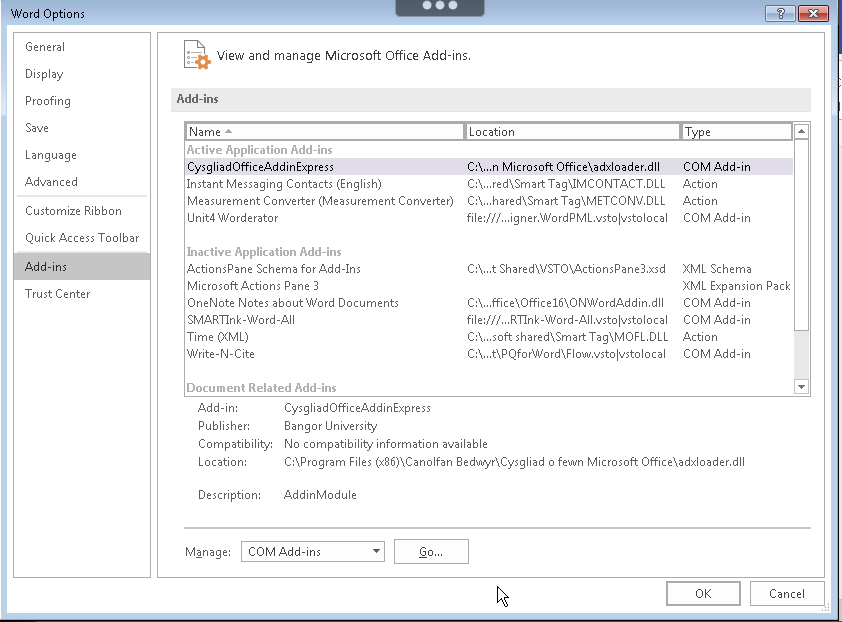 If CysgliadOfficeAddInExpress appears under Active Application Add-ins, everything should be working fine. If it appears under Inactive Application Add-ins (as in image below)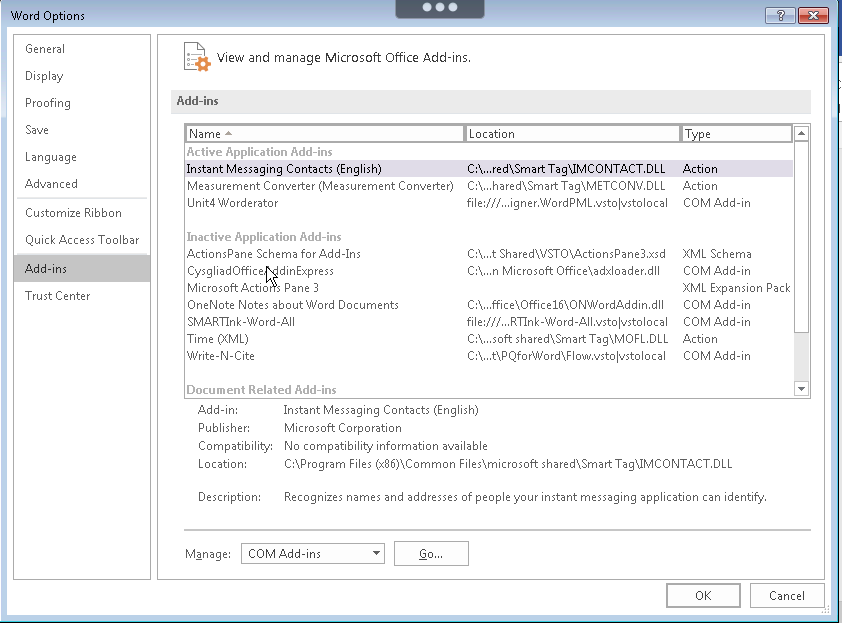 you need to click on the Go button next to Manage COM Add-ins, tick the box next to CysgliadOfficeAddinExpress and then click Ok.

If CysgliadOfficeAddinExpress appears under Disabled Application Add-ins you must change the drop down menu to Disabled Items and then click Go and reable CysgliadOfficeAddinExpress.
---
How to solve problems with security and trust settings
Some problems may arise where Bangor University has not been designated a Trusted Publisher. This usually only applies to system administrators within large organizations. The Cysgliad package and the COM Add-in for Word and Outlook are digitally signed. If your organization only allows digitally signed Add-ins (as in the image below):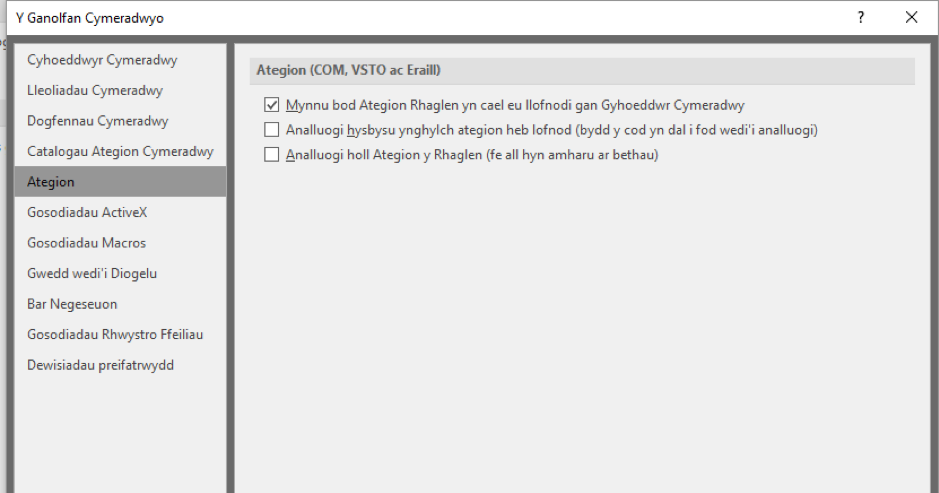 When Word opens, it displays a Safety Alert:

You can click on the 'Enable Content' button and the buttons will appear in the toolbar throughout the session.
Alternatively, when you click on the text in the yellow bar, you will see: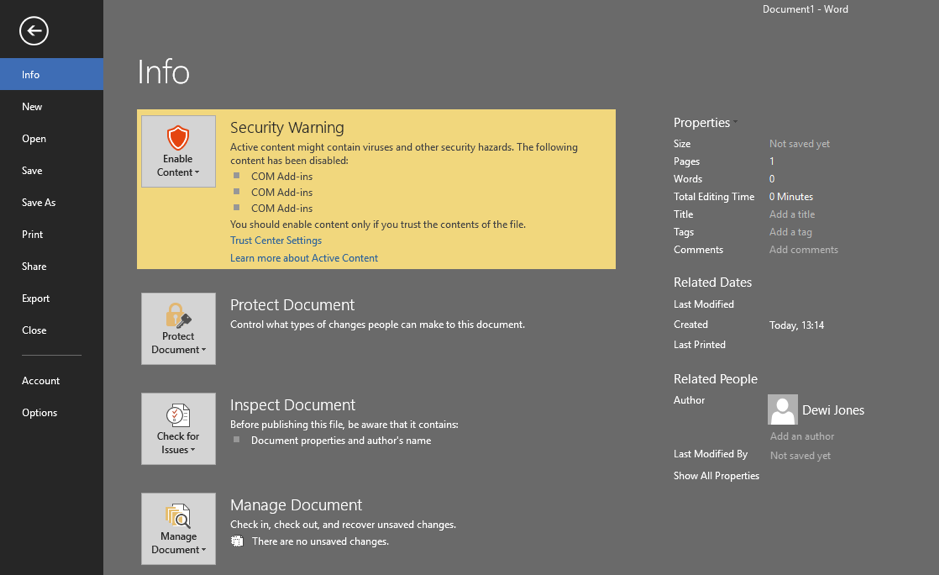 Click Enable Content, and then Advanced Options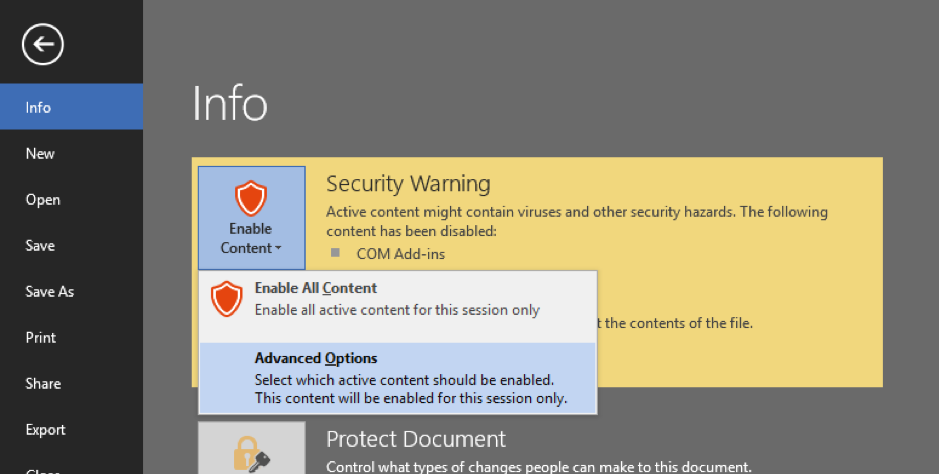 This will take you to a window containing a security alert. You can add Bangor University as an Approved Publisher here by selecting the 'Enable all code published by this publisher' button (Enable all code published by this Publisher).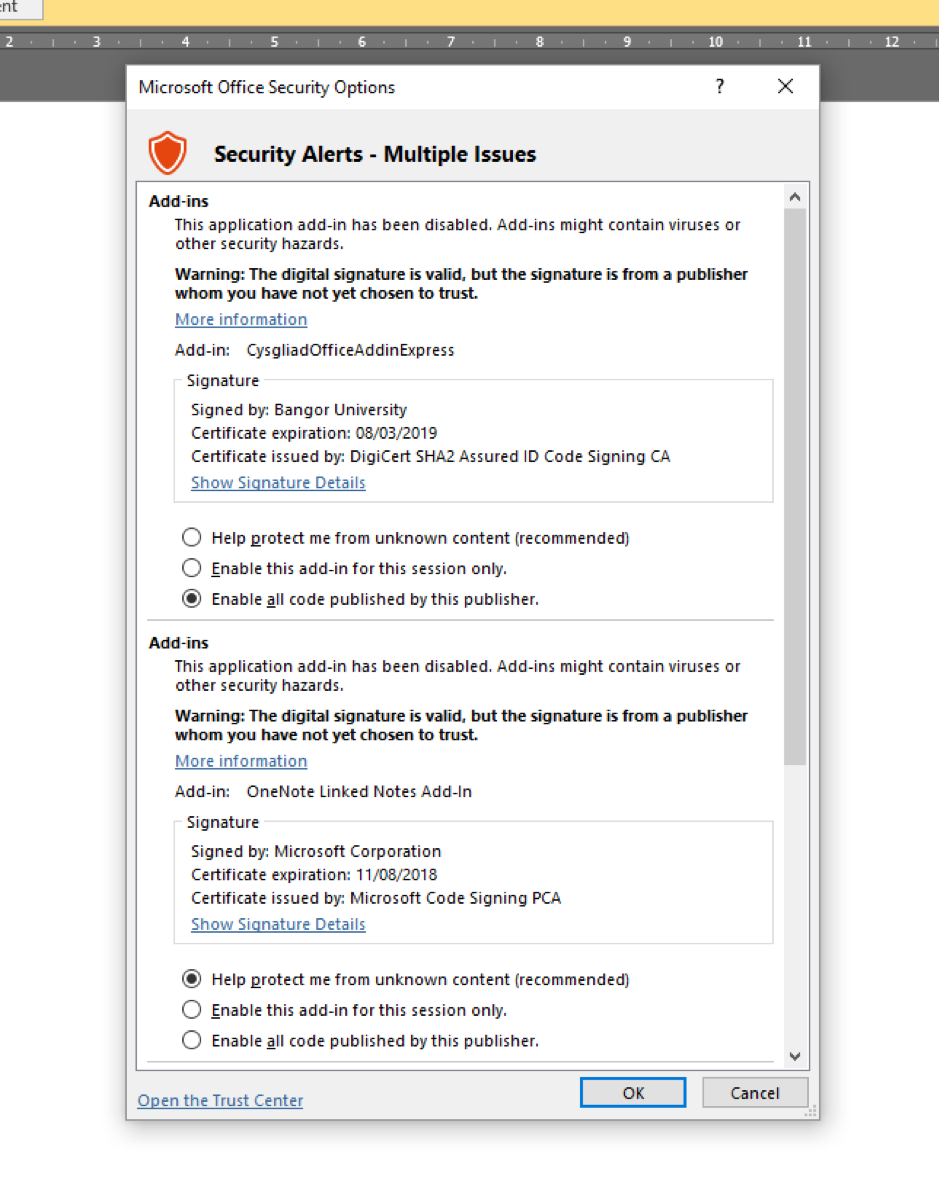 This will then allow the buttons to appear under the Review tab in the toolbar:

This will also add Bangor University to the list of Trusted Publishers: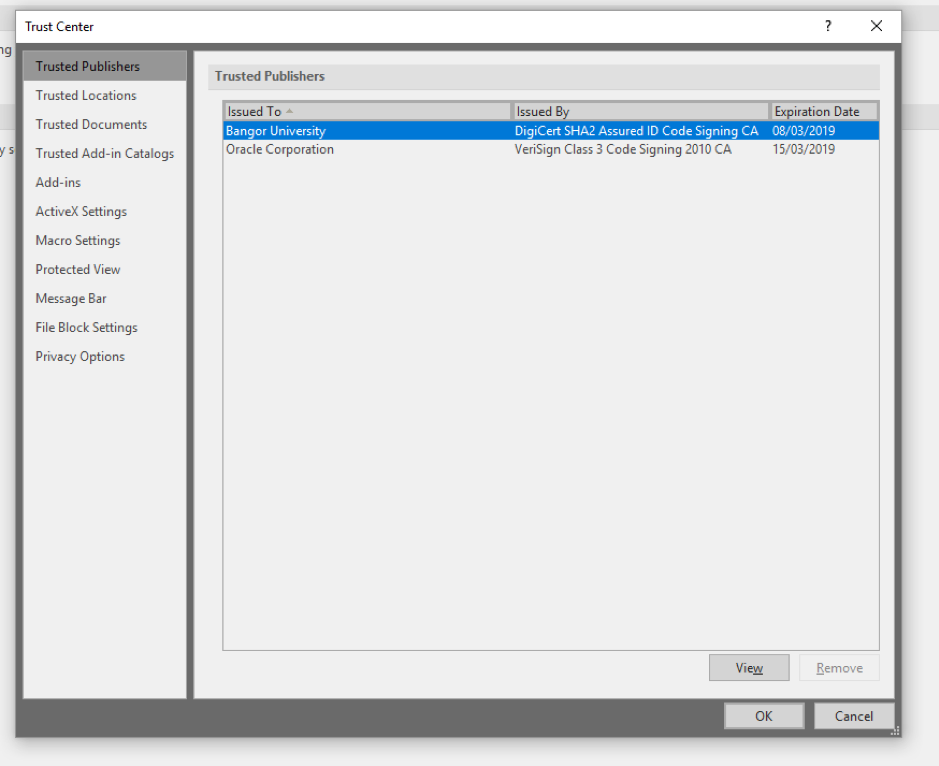 If you are still having trouble following these steps, use the Cysgliad Help feature at the bottom right of the Cysgliad website.
Chat Support Interface
As well as providing assistance to Cysgliad users, one of the objectives of the Chat Support Interface is to gather examples of the sentences that users use to ask questions about the software.
The ultimate goal is to collect a 'corpus' (a collection of texts) that will enable us to train a Welsh chatbot that can automate the service by understanding queries and directing them to the appropriate answer.
This corpus will be distributed publicly and free of charge under the CC0 license to help others develop similar services in Welsh. In order to achieve that goal, we ask you to agree to contribute the phrases of your talk to the corpus before using the service. These sentences will be anonymised, and any information relevant to the GDPR, such as your name and email address, will not be stored in the corpus. If you have further questions about this, please use the Help Interface to ask them.